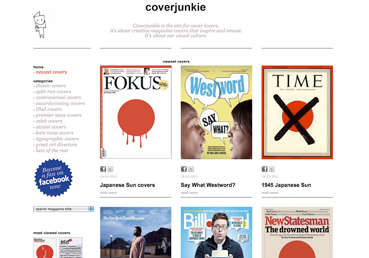 >> 19.3.2011 Fokus Japan cover on international magazine cover site www.coverjunkie.com.
--------------------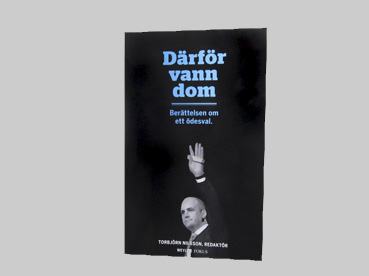 >> 9.12.2010 "Därför vann dom" (Weyler förlag/Fokus) is not out yet, but this is what it looks like. Great reading and I'm pleased with the cover design.
--------------------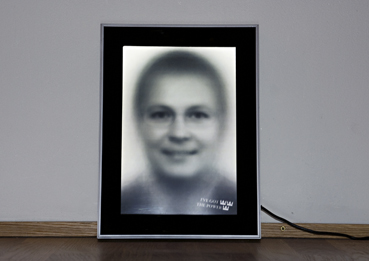 >> 28.10.2010 Meet Dag Riksén, a man (?) with 349 faces. Every member of the Swedish parliament is there somewhere in the lightbox. It's an entry for Vårsalongen at Liljevalchs 2011. Fingers crossed.
--------------------
>> 27.10.2010 September and October have been all about deadlines and no time for showing off all the new work I've been doing. So here it all comes at once: New issues of mm and Sport&Affärer. Redesign of Intelligent Logistik, another Dagens Industri supplement. Cover for a book on the recent Swedish election that will be out soon on Weyler förlag. And some new Fokus covers of course.
--------------------
>> 30.6.2010 Finally getting around to updating the site. The Fokus cover section is growing out of hand but there's just so many to choose from. Also the new issue of Djurgårdaren is now out at http://np.netpublicator.com/netpublication/n79691225. My first digital magazine. Safe the trees!
--------------------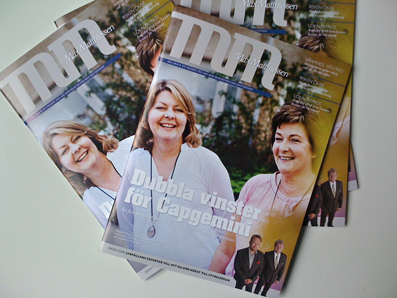 >> 28.6.2010 Max Matthiessen's business to business magazine mm fresh from the printer. I worked with Redaktorerna on the redesign. More at www.martinkindgren.com/mm.
--------------------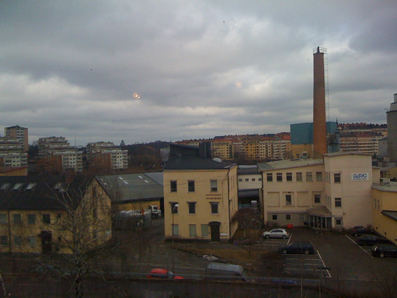 >> 1.4.2010 A view from the window of the studio I share with a mate from Berghs since a month. Very urban isn't it?
--------------------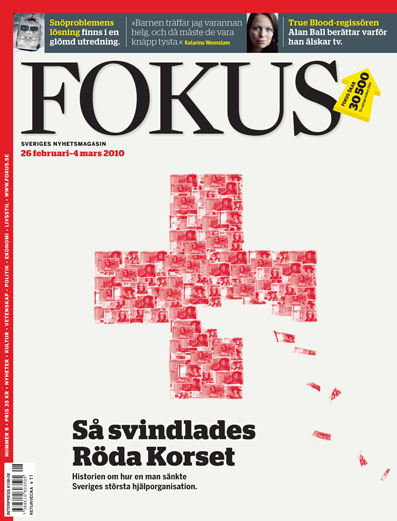 >> 28.2.2010 Money, money, money on the new Fokus cover for the fascinating story of how one man swindled The Red Cross. Read the story at www.fokus.se/2010/02/korsfararen/.
--------------------

>> 15.2.2010 A new movie featuring ME. A lot of work at the moment. Deadline today for the new issue of Sport&Affärer (it will run in Dagens Industri in a few weeks) and I've also been busy doing some design for big corporation Intellecta. I'm not complaining though, but sometimes I fear for my eyes.
--------------------

>> 18.1.2010 Ok, it's been done a million times so here's a million and one. For the latest Fokus cover.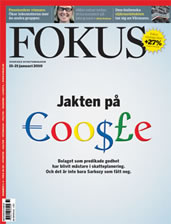 --------------------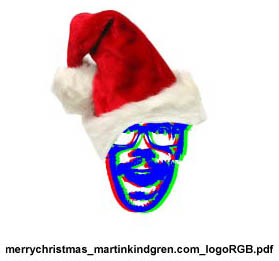 >> 17.12.2009 I'm leaving The Snowy City (Stockholm) for The Rainy City (Manchester) for a couple if days and then it's Christmas. Have a good one!
--------------------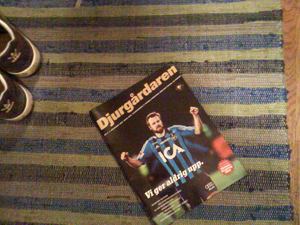 >> 4.12.2009 The new issue of football magazine Djurgårdaren hit the doormat earlier this week.
--------------------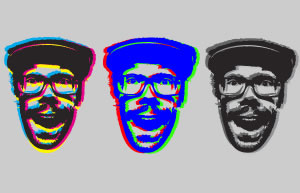 >> 1.12.2009 Work in progess: creating my logo. It comes in CMYK, RGB and greyscale, of course. Mate and photographer of Kangol campaign fame Jens Andersson took the original photo (which also included my daughter Siri).
--------------------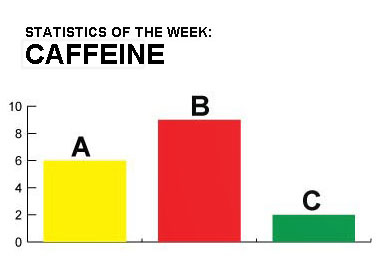 >> 19.11.2009 Caffeine rush on a scale 1 (zzz) to ten (piano fingers for the rest of the day). A: Cappucino at Frappino while discussing a book project with top guy and crazy photographer José Figueroa – 6 points. B: Double macchiato at Tinterella to prepare for another deadline with Fokus AD Henrik Malmsten – 9 points. C: Kenyan coffee at home infront of the computer going through photos for Djurgårdaren – 2 points (my fault for getting the proportions all wrong).
--------------------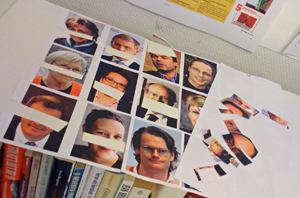 >> 5.11.2009 The Face of Power. Today Fokus presents the list of Sweden's 100 most powerful people. We decided on a collage cover. Check out www.fokus.se tomorrow and guess who's ear is at seventh place.
--------------------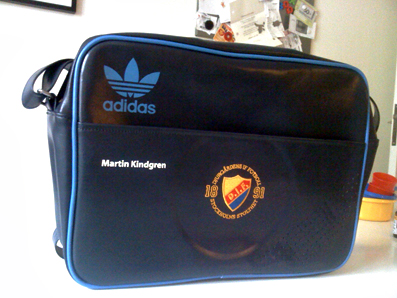 >> 3.11.2009 A somewhat late but much appreciated christmas gift, complete with a Martin Kindgren print, turned up at a meeting last week. It's nice to be part of Djurgårdens members magazine, and the way the season has been going maybe I should put the old boots in the bag and turn up for the last two matches. Or maybe not.
--------------------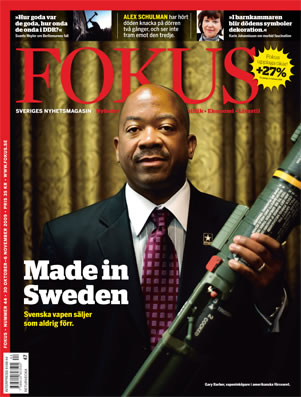 >> 30.10.2009 Bring on Halloween! The new issue of Fokus contains a years worth of guns, death and general armageddon. Moa Karlberg took the cover shot of a US military guy posing with a swedish gun. I love it.
--------------------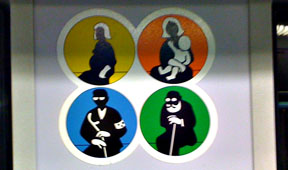 >> 25.10.2009 I always enjoy coming across new signs, specially instructions, when travelling. The above was found in Istanbul's tram last weekend. I like the colours, but I'm still not sure about giving my seat up for a guy in a robbers mask.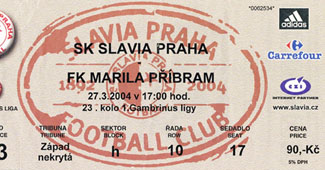 While I'm on the subject, this may be my all time favorite. Picky aren't they, the security at football in Prague...
--------------------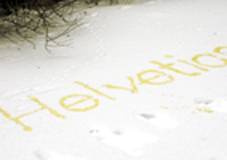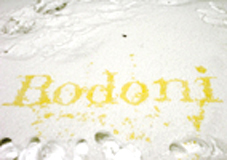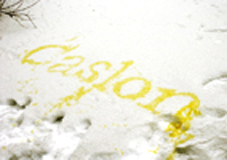 >> 13.10.2009 As the first snow fell in Stockholm my thoughts wandered to this D&AD entry from my days at design school. The jury didn't share our sense of humour but I think the effort is worth being put up on the internet for the world to see. Carl Larsson, Ola Bergman and I worked together on it. Cheers!
--------------------

>> 9.10.2009 The site has been up for more than a week but I've been too damned busy spreading the word to write anything here. Emails, lunches, coffees, phone calls, more emails... Anyway, a brand new issue of Fokus arrived today (as it does every Friday). I'm very happy with the "Star Wars cover". "EU in 25 years" may not be the sexiest theme ever, but with a lot of enthusiastic backing from the editors and me swearing at Photoshops type handling I think it came through with flying colours in the end. Nice.